Someone once told us that you wouldn't paint a wall without priming it, but we often skip straight to applying mascara without starting with a lash primer. We're here to change that. Instead of flashing forward to the final step, here's our primer on why eyelash primer isn't just an add-on, it's an imperative in your makeup routine.
Lashes Weren't Built in One Swipe
Like fingerprints, lashes are unique. Some are thinner, some longer, and they come in all different shades. Depending on the final makeup look you want, you have to set the right foundation for the perfect lash. Making your opening act lash primer sets the stage for eyelashes you will want to bat.
Lash Primer Makes Your Lashes Fuller
No one has ever turned down fuller lashes (that's why false eyelashes are so popular). By starting your eye makeup with an eyelash primer, you are applying a thin coat to them meaning they become instantly thicker. That means when you start applying mascara there's more of a base.
Your Lashes Will Be Longer with Mascara Primer
It's not always about length, but sometimes we all want a little more to work with. Eyelash primer not only adds to the thickness of your lash but it builds onto the end as well. Unlike false eyelashes, lengthening with primer gives you the "natural lashes" look. You'd be surprised what a difference a small amount of length can make. Long lashes? Yes, please.
One Coat of Eyelash Primer Is All You Need
Don't go overboard with your mascara primer. Remember that a lash primer's job is to set your lashes up perfectly for your mascara application. In this instance, less is more so save the two coats for your mascara. If you want to add a little curl, use an eyelash curler before you apply your mascara primer.
Don't Wait Too Long to Get to the Main Event
A good primer not only adds length and helps to volumize but makes it easier for your mascara to glide on easily - meaning no clumping, flaking or smudges. But if you wait too long, your eyelash primer will dry, leaving you with flakes and tugging. Think of it as foreplay. You wouldn't go out for a pizza after a hot and heavy make out session with your significant other. The same goes for your mascara primer. Immediately move on to your mascara application after your swiped it on rather than letting the primer dry.
Choose a Conditioning Lash Primer
Not all lash primers are created equal. If you're going all the way, choose a conditioning primer that nurtures your natural lashes with hair healthy ingredients. That will ensure that either full glammed up or ready for bed naked, your lashes will be gorgeously nourished.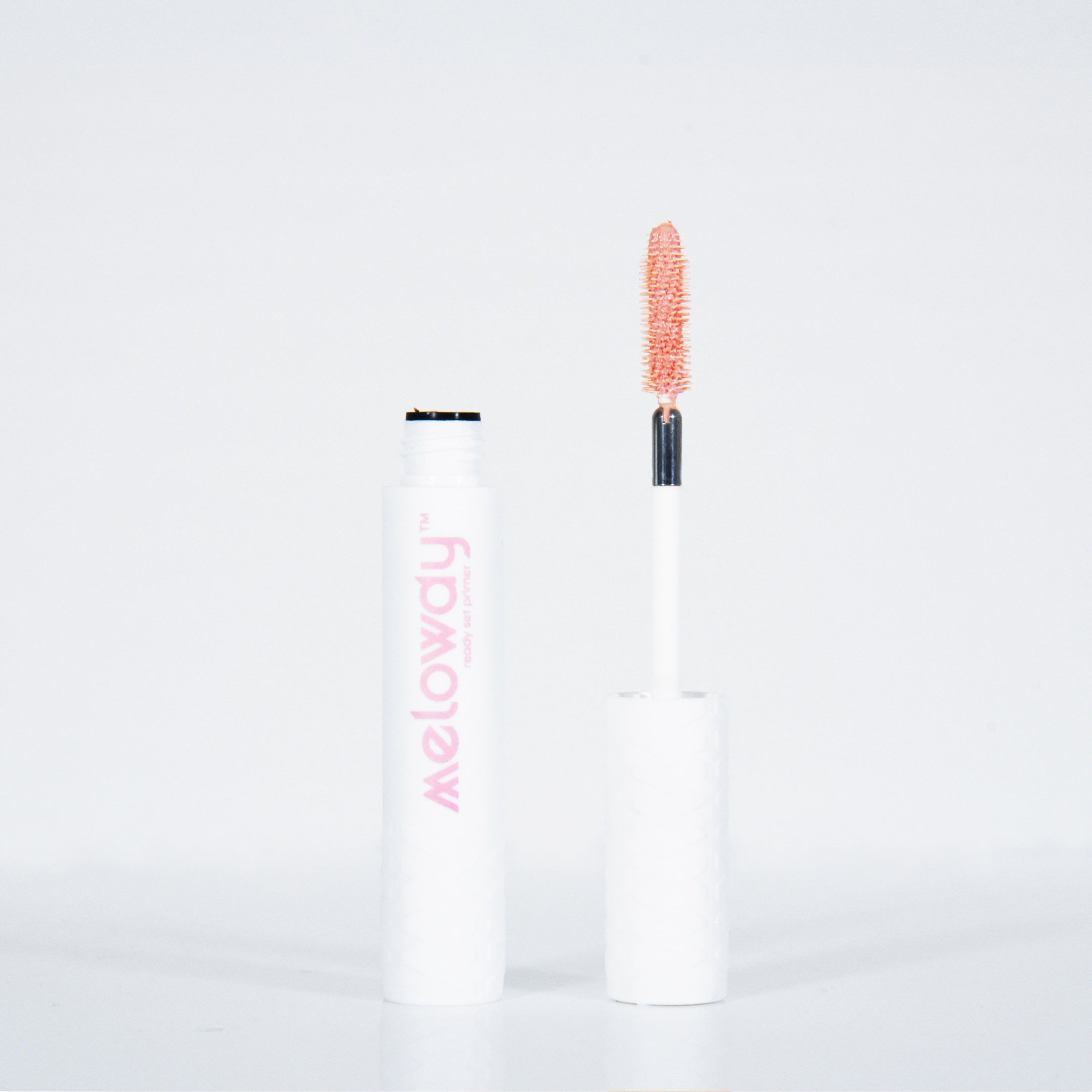 The Lightweight Eyelash Primer That You Need
Meloway's Ready Set Primer is a conditioning primer that gives you fuller lashes in one easy swipe. It contains argan oil (which is chock full of Vitamin E and fatty acids to lubricate the hair shaft and prevent dryness) and a unique blend of 18 keratin amino acids that penetrate the cuticle and promote optimum moisture balance in your hair. This genius lash conditioner goes on in one coat and has what other primers don't - Meloway's patented and adjustable wand and lash-friendly brush. A fun extra? The tinted formula in baby pink can give you a flirty lash look if you skip adding mascara.
The Takeaway on Eyelash Primers
Making a mascara primer part of your makeup routine is the perfect way to take your bare lashes to va-va-va-voom. Go the extra step and add a lightweight eyelash primer to your makeup kit. You can skip the lash extensions and glide on for a flawless lash look.