Blue mascara and the everyday makeup look might not feel like they go hand in hand, but we're here to show you how perfect a match they are. This fall, it's the look that we're all about - understated makeup paired with a dramatic splash of blue, courtesy of our navy mascara, Blue Jeans. You'll be serving up a whole lot of movie star realness.
Navy Mascara Is A Makeup Essential
Even its popularity peaks and wanes, blue mascara is one of the colors that never goes out of style. And with good reason. The blue formula gives you super saturated lashes that make your eyes stand out. The pure color intensity that only navy blue can deliver is a great go to if you want to take a step off black but still want to make a powerful statement. If you're choosing one colored mascara, then blue is the way to go.
Blue Pairs Well with Light Eyes
If you've got blue eyes, then navy mascara will increase the vibrancy of your eye color. A rich blue mascara can make subtle eyes head into royal blue territory (because who doesn't love royal blue), and it can add depth and mystery to your look. And bonus? It makes the white of your eyes whiter and gives a bright sparkle to your eyes. That's a mascara doing triple (or is it quadruple?) duty.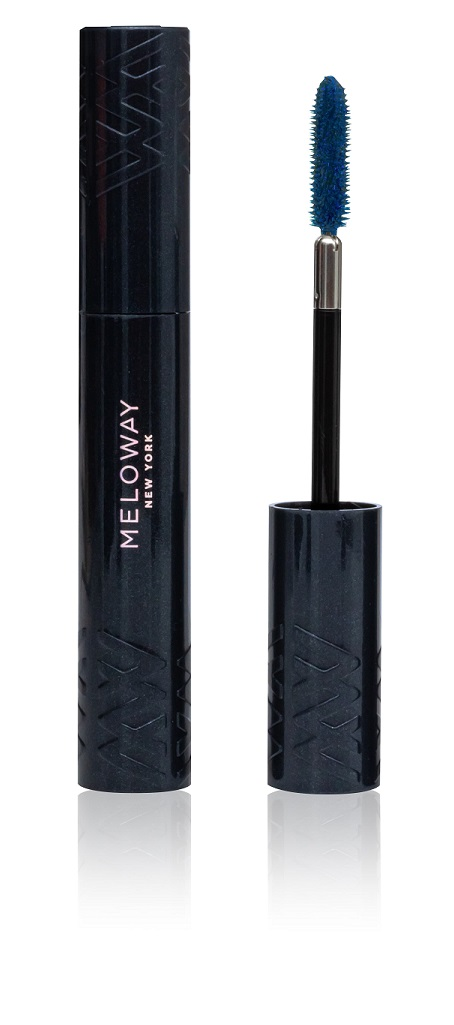 Not All Blue Mascaras Are Created Equal
When choosing your blue mascara, you want one that delivers superior performance. Meloway's Your Way Mascara in Blue Jeans (other shades available if you're not feeling a blue day) is the perfect mascara for so many reasons. First, the brush. You've heard about our patented wand but until you see it in action, you haven't experienced nirvana. It's fully adjustable and bends to any angle you want. Next up, it delivers dramatic length (as a good lengthening mascara should). It's also a volumizing mascara, so your lashes will look extra full and lush. The highly pigmented formula won't smudge, clump, or flake and glides on effortlessly in one easy coat. It's long lasting, and non irritating for day long wear. Zero worry here. Just a brand you can count on for eyelash (and more) gorgeousness.
How Many Coats of Blue Mascara Do You Need?
One coat of blue mascara is all you need for a color pop but if you want a more intense look then two coats will get you there. As with any eye makeup, overdoing it might add volume but it will also add weight to your lashes. When you wear blue mascara, you want the dazzle but you definitely don't want clumps. That's where our brush comes in. Meloway's brush gently tugs your lashes, holding them tight so that the mascara is clump-free and flawless.
What Blue Lashes Say About You
Blue is a cult favorite among the colored mascara shades. It delivers a splash of color to your eyelashes that is bold but not overwhelming. Blue lashes (like anything blue) mean that you're enthusiastic, imaginative, mysterious, and have a healthy dash of wisdom. And navy blue is elegant and refined. It's the perfect blend of fun and luxury.
Go the Extra Mile with a Blue Eyeliner (or not)
So, you've decided to go with Blue Jeans for lash perfection. If you want to amp up the drama a notch, pair it with a navy eyeliner. Another eye makeup essential, Meloway's gel eyeliner in Midnight Navy will frame your eyes perfectly. Too much drama for you? Go with our Sparkling Rose. It's a cool rose gold so it still pairs perfectly with blue.
Pair the Blue Up with the Everyday Makeup Look
Once you've settled in on your mascara (and got your eyelashes covered), it's on to the rest of your look. Since you're wearing a bold color on your lashes, choose a light foundation and neutral blush. For your day look, an almost not there lipstick will do the trick. But for night, bring it home with a bold cool red lip pop. All combined it will deliver an impressive blue color payoff.
Go Blue
The bottom line is that a gorgeous navy mascara is a must-have in your makeup kit. Our Blue Jeans mascara is the way to go to create the perfect makeup look. Tons of volume, length, pop. Zero flake, clump, or smudge. It's the washable mascara that you and your eyelashes have been dreaming about. Never before will having the blues make you totally happy.